The President of the EUIPO António Campinos Met the Minister of Economy Peter Žiga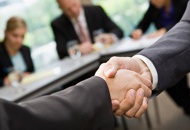 The President of the European Union Office for Intellectual Property (EUIPO) António Campinos during his presence in the Conference Shaping the Future [of IP] met the Minister of Economy Peter Žiga. Also the Industrial Property Office President of SR (IPO SR) and the Director of Legal and International Affairs of the IPO SR Tomáš Klinka participated in the meeting.

P. Žiga informed A. Campinos at the meeting about the preparation of the National Project Increasing the Use of the Intellectual Property Rights which shall be launched next year. P. Žiga expressed his support to the Project and also his opinion about the success of the Project which shall be shown in the number of all industrial property subject-matters applications.

He also informed A. Campinos about the National Strategy on the Intellectual Property, to preparation of which the Government of SR is committed in the Manifesto of the Government. He provided the facts about the current state of preparations when the first steps to its finalisation were carried out.

A. Campinos appreciated particularly the cooperation of the EUIPO and IPO SR and outlined the possibilities of cooperation development as well as the cooperation on new projects.

All participants agreed on the importance of the intellectual property as a tool to support entrepreneurs and the national economy.



Photogallery:
(for enlarge photos please click)


Date: 16.11.2016