Meeting of Representatives of the IPO SR and SKPZ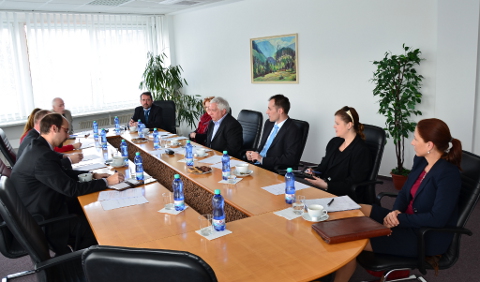 The representatives of the Industrial Property Office of the Slovak Republic (IPO SR) headed by Ľuboš Knoth met with representatives of the Slovak Chamber of Patent Attorneys (SKPZ) in Banská Bystrica on April 14, 2014. The meeting followed the Annual Conference of SKPZ from March 21 during which a new management was elected. Vladimir Neuschl was re-elected the chairman.

They discussed topical issues of cooperation and some problem areas from the point of view of the IPO SR as well as of patent attorneys. For instance, the need of shortening the proceedings relating to subjects of industrial property rights. The participants committed themselves to removing gradually administrative barriers that often unnecessarily prolong the proceedings on the application.

The cooperation will also cover the new electronic services of the Office. SKPZ was given the opportunity to participate in their development. In this context the Office introduced, inter alia, a prototype of upgrading service Webregisters – the Office's databases available on the internet, which was received well by the guests.

The representation of the IPO SR agreed the proposal of the SKPZ to use the media and promotional space, including their web sites together more effectively. Both sides also agreed that the SKPZ will participate in various seminars and educational events aimed at publicizing the services of the Office – Pre-diagnostics of the industrial property rights to achieve greater visibility among current and potential clients.

- Working meeting was very useful and discussion constructive, - said V. Neuschl. - We were also discussing specific topics and difficulties solving of which will certainly help to proceedings on the applications of industrial property rights but also the work of patent attorneys.

L. Knoth: - By this meeting we opened a new phase of enhanced cooperation in order to streamline the system of intellectual property protection. We are, as it were, in the same boat, we are partners. I welcome the mutual effort to participate in the steps leading to results that will ultimately help users of our system, our clients.
Date: 12.5.2014