ITAPA 2009 Distinction Awards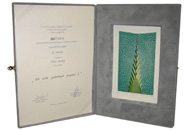 Industrial Property Office of the Slovak Republic was awarded silver ITAPA 2009 Distinction Awards for introduction of on-line filing of IPR-related applications and relevant documentation. Our clients may use seven applications online at present. Online filing via Internet using the electronic signature presents fast and safe way of communication with the Office and make life of applicants and patent agents much easier.
The project manager for online filing in IPO SR is Mr. Milan Oravec "We have been very pleased with the award, of course. It gives us a satisfaction for four years of hard work without seeing an immediate results. Now we can say these overall results reward the effort. For sure, we will continue to widen the range of electronic services offered by our Office".
Date: 10.12.2009